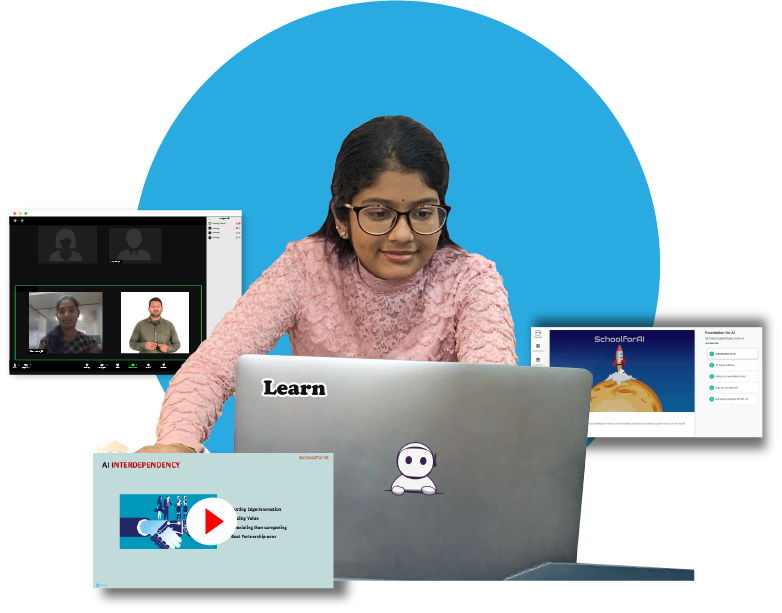 Introducing Hybrid Learning
We are here to democratize AI. Hybrid learning is a revolutionary teaching methodology that encapsulates experiential learning through mentor-led online classroom for 1-on-1 interaction along with video-based e-learning for reinforcement and to suit the learning style of every student.
Our project-based learning approach encourages students to master the concepts and challenge themselves towards solving real-life problems using AI technologies – AIforGood
Connect with us and explore our methodology.
5 Core Areas of AI Applications

---
Simplifying the understanding of the purview of AI through analysis of its 5 core applications, thus simplify the learning and encouraging experiential learning – Explore the world of AI from Data Science to Deep Learning.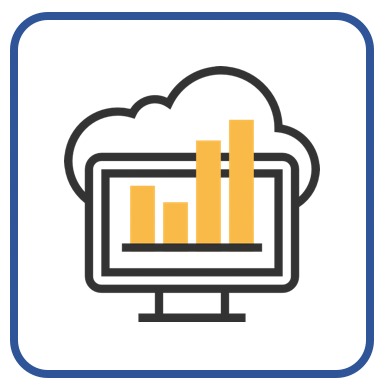 DATA
Forecasting and Predicting using numerical or string data to support the decision making process, a key functional advantage for the management team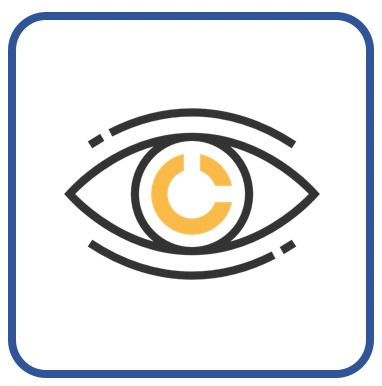 COMPUTER VISION
A glamorous application of AI that mimics human vision & analysis including face and object detection & recognition for various general and critical applications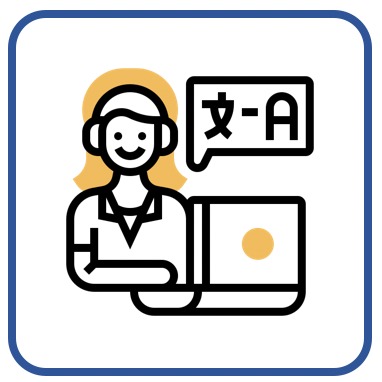 N.L.P.
Enabling humans and machines interact using linguists to make it more personal. Process, understand and anlyse human languages to perform automatic tasks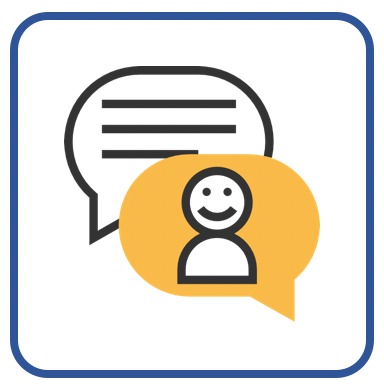 SPEECH
A part of NLP, however demands a separate identity with its increasing influence through audio based applications enabling natural interaction & industrial usage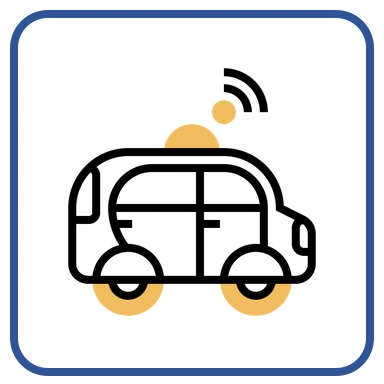 AUTONOMOUS
It has been a dream of humans to achieve machine autonomy and apply them to enhance the efficiency, safety and eventually overcome human limitations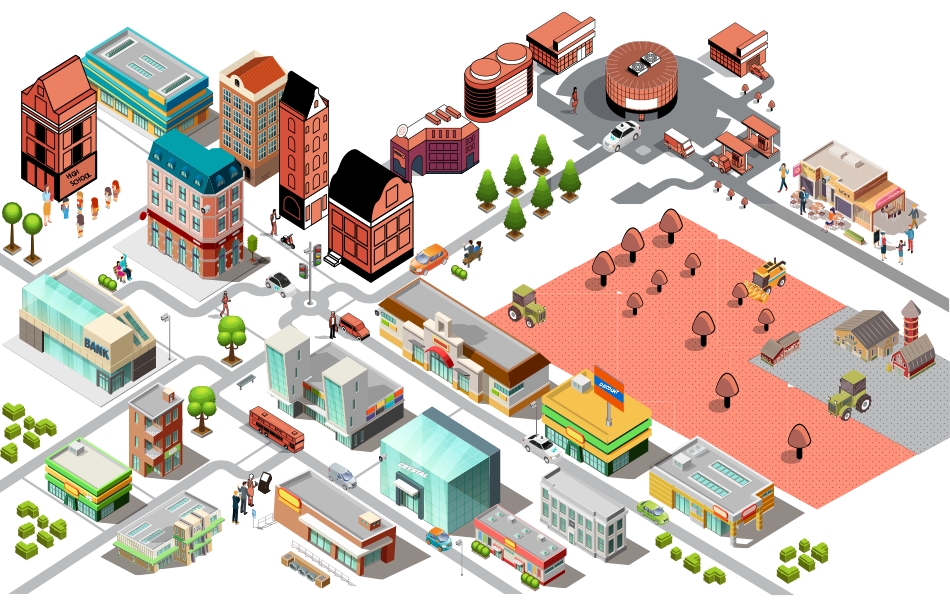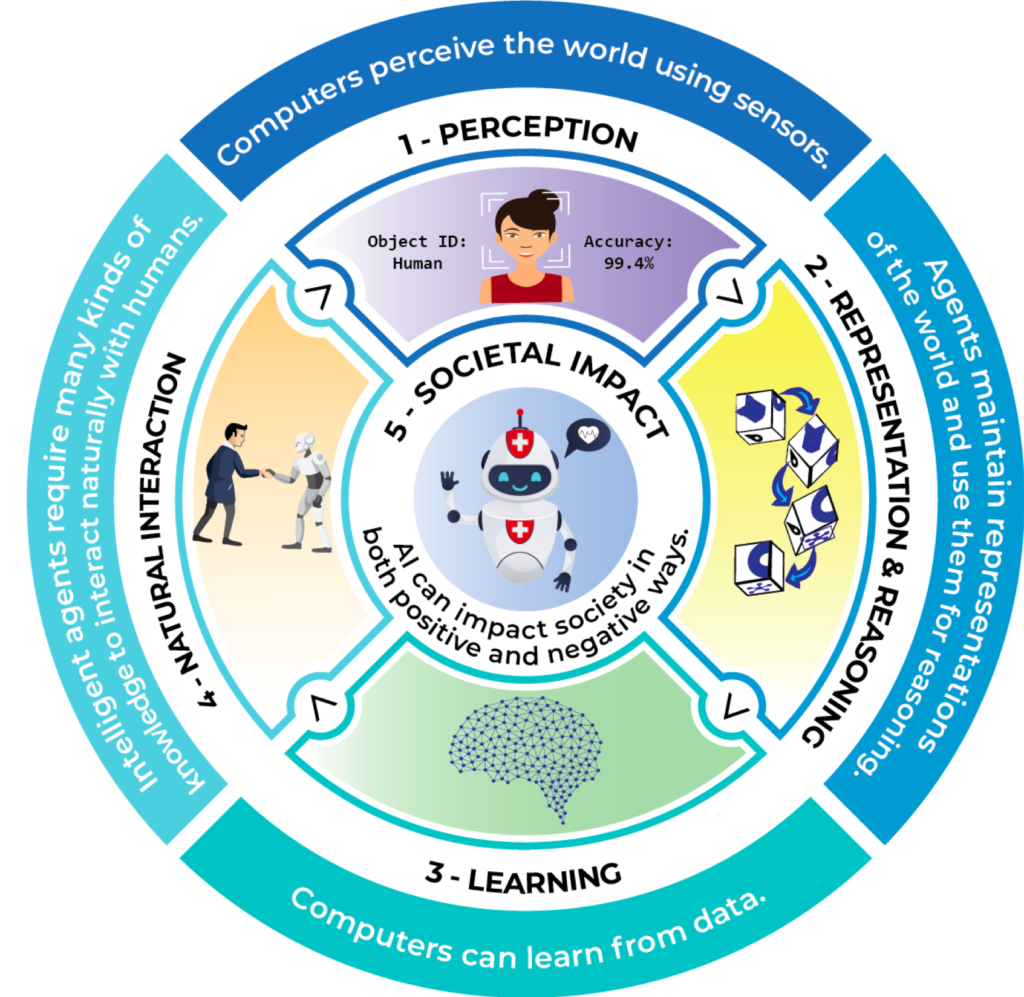 STEAM for Career-Neutral AI.
Includes AI4K12
---
Following guidelines of a standardised national initiative to facilitate AI instruction for the K-12 audience.
Perception: Understanding machine perception and how they 'hear' and 'see' the world around us.
Representation & Reasoning: Constructing representation of the world to reason using algorithms.
Learning: Finding the hidden patterns in the data to 'learn' and solve problems or support decisions.
Natural Interaction: AI is currently at the child-level learning to behave, express and interact like humans.
Societal Impact: Leveraging the power of AI to find solutions for societal problems without bias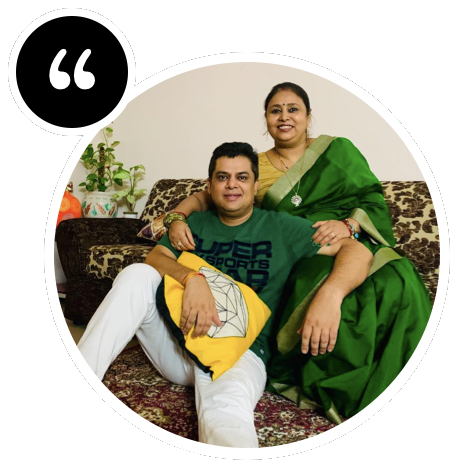 "Science will advance, technology will improve. Eventually using coding/technology in all sectors is what will be the most beneficial for all the students. SchoolforAI helped in preparing my child for that, and also changed her outlook."

Satish Hegde – Parent of Sravan, Grade9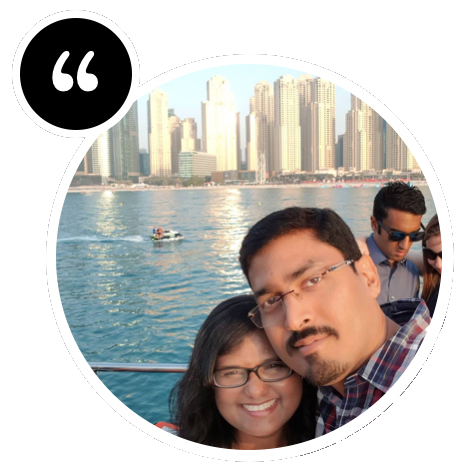 "SchoolforAI has an exceptionally brilliant faculty. Besides having a high-grade curriculum in their teaching section, their technical help and support system is really praiseworthy."

George M – Parent of Sarah, Grade 8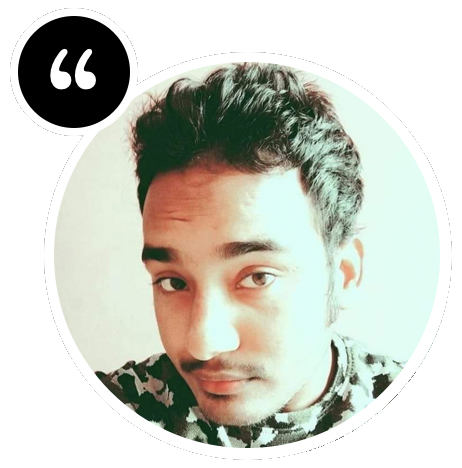 "I really love teaching at SchoolforAI. It has been immense pleasure to teach so many kids World Wide. I have a great bond with my students. A perfect working environment where we get so much support."

Karan Chaudhary – Trainer
A Course for Every Learner
Courses that would make students AI-ready. Check out Short, Hybrid and Embedded AI System courses to meet your learning goals. All our courses are designed and developed by alumni of IIT, IIIT and IIM to prepare students for the future. Our project-based pedagogy would effectively convert the knowledge into skills – Explore our courses today and ask for a demo.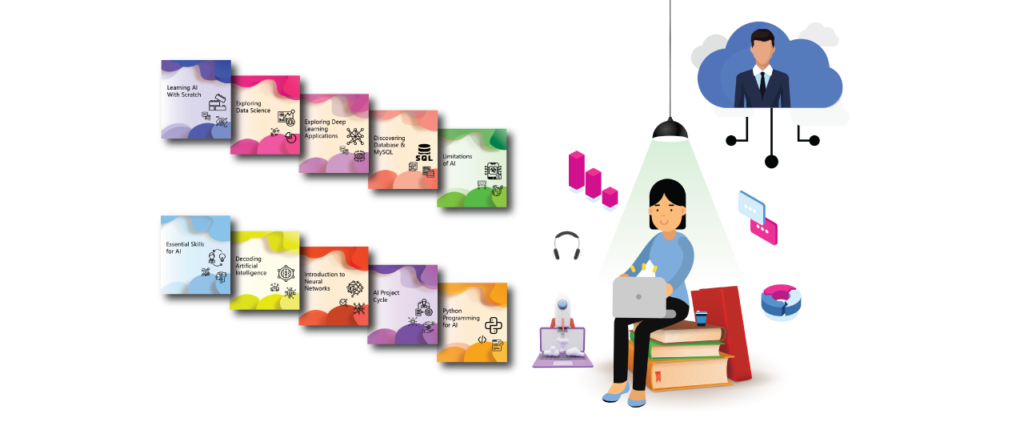 Short-Term Courses
Explore the gamut of short online courses that are carefully designed for different age groups. Students could carefully plan their learning goals and pick these hi-tech courses as per their learning appetite. We have developed 'Must for all' and 'Age Grouped' courses that would take a step approach towards the ultimate goal of being an AI Practitioner. Project-based pedagogy ensures the conversion of knowledge into skills.
These courses have specific learning goals hence are of short duration. Once enrolled, students would complete the online self-learning videos and complete their project(s). Then proceed with online master classes, conducted periodically, where the trainer would engage with the students practically.
Hybrid Full-AI Course
Explore the long-term, full-AI course offered in a Hybrid model. The course would cover from Basics to advanced concepts. In case you are interested in 1-on-1 online personal engagement with the trainer and to sail through various levels to achieve the most coveted title of AI-Practitioner, then Hybrid Courses are just for you. Curriculum include Introduction to AI, Data Science, Artificial Intelligence and various other modules.
Post enrolment, a coordinator would be assigned to coordinate until the completion of the course. This way the student would get the right attention and monitoring to build necessary skills. A Hybrid long-term course is meant to systematically transform students over time.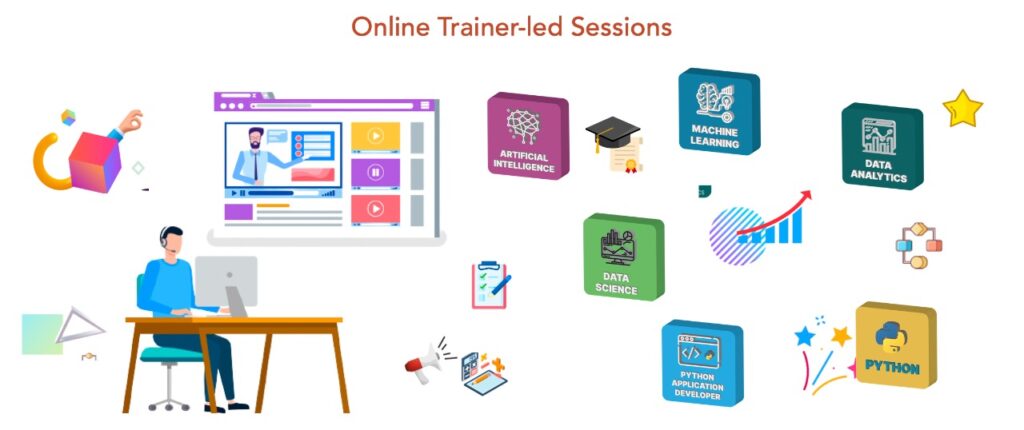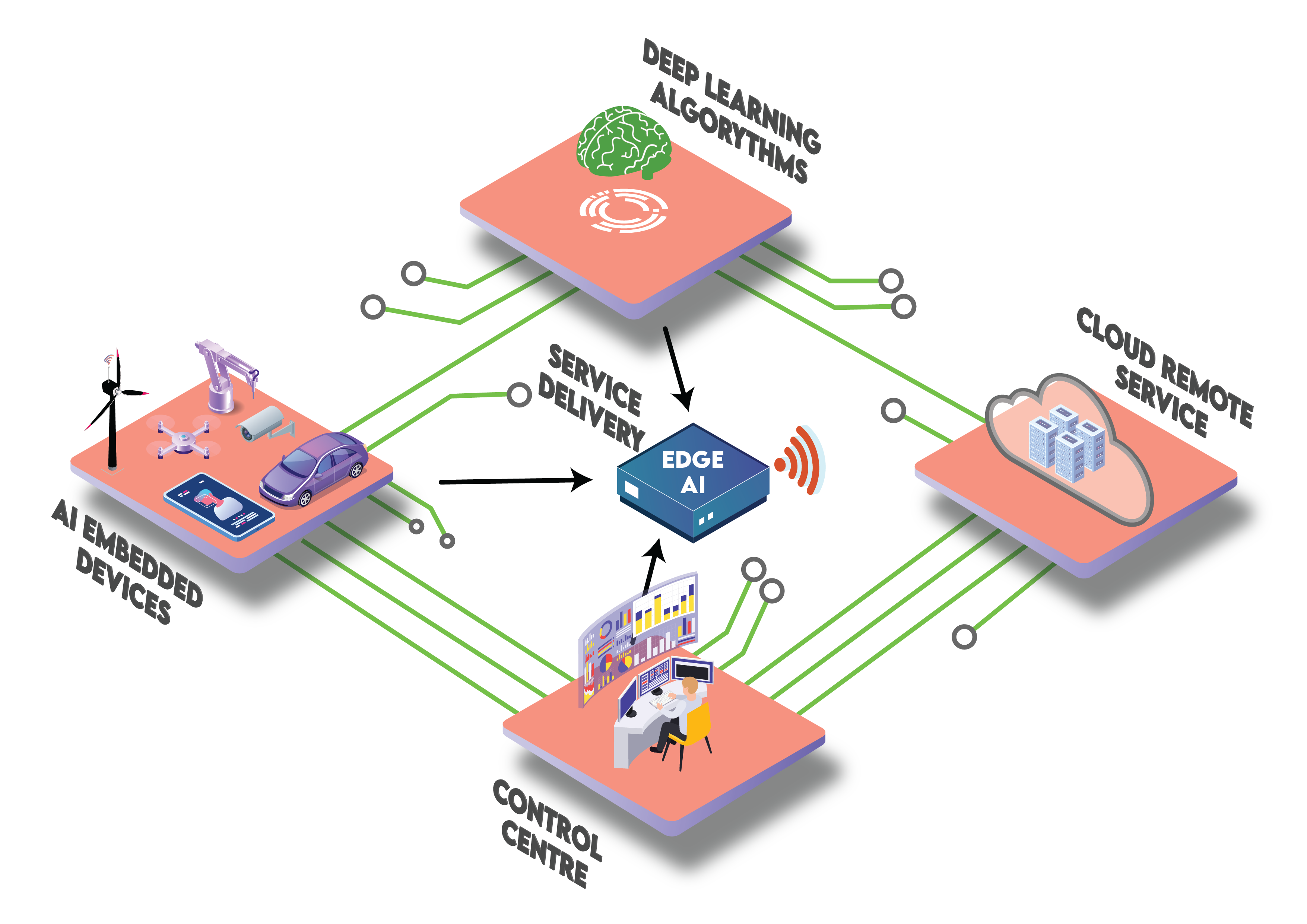 Embedded AI Systems
The future is with AI. Gone are Robotics and IoT and it is time for Embedded or Edge AI.  If you look around you would see various gadgets, powered by AI, working seamlessly to make our lives easy. These gadgets have hardware that is embedded with AI models to act fast and serve our needs. These systems have onboard sensors and depend less on cloud processing while running instances with millisecond latencies.
Offering courses with basics to advanced levels engaging students to learn basics of Electronics, have fun with Robotics and IoT devices, get introduced to Embedded Systems, and eventually build an Embedded AI system practically. Necessary hardware, software and learning material would be provided.
Our 5-step teaching philosophy for AI
"If you can't explain it to a 6-year old, you don't understand it yourself." – Albert Einstein
We have simplified AI through our project-based learning that covers all the 5 essential stages from data sourcing to deployment. 
Still have doubts? Join the demo class along with your child and try it out for FREE – We are Democratising AI

DATA SOURCING
Learn sourcing and handling various types of data in an efficient way using various methods & techniques.


EXPLORATORY D.A
An essential step to get the insights form the data from statistical analysis and data visualization techniques


FEATURE ENGINEERING
Learn feature engineering to identify appropriate features that contribute to the model performance


MODEL BUILDING
AI is resource & data intensive and hence model building & optimization are key for reliability and efficiency.

DEPLOYMENT
The final essential step to put the model to work, either on local machine or on the cloud as per the requirement.

An Insight into the world of SchoolforAI
An open interaction with the leadership of SchooforAI highlighting the purpose, offering, and future plans along with insights about how they are going to democratize AI right from the school level.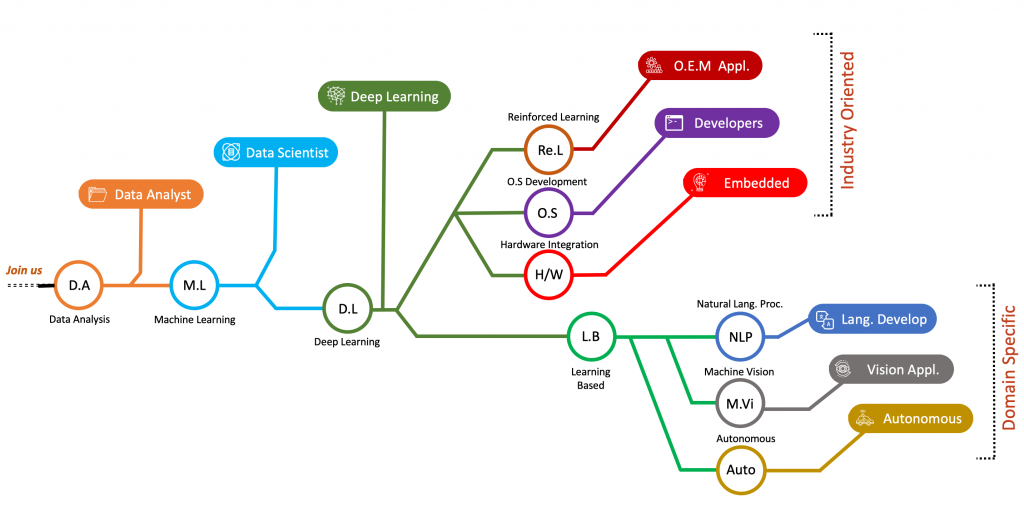 Draft your career path by understanding the evolving opportunities in these emerging technologies.
Simplified learning curve – AI is not a subject but an umbrella term that encapsulates Data Analytics, Data Science, and Deep Learning. Children should get a grip on the concepts and could even pick AI as a subject in their academics or draft a career path towards it.